Get to grips with your campaigns and marketing materials with one tool. 70% cheaper and 90% faster.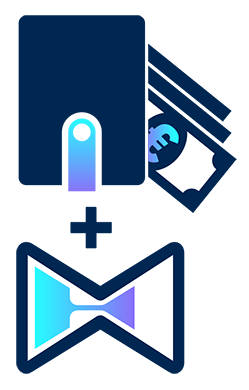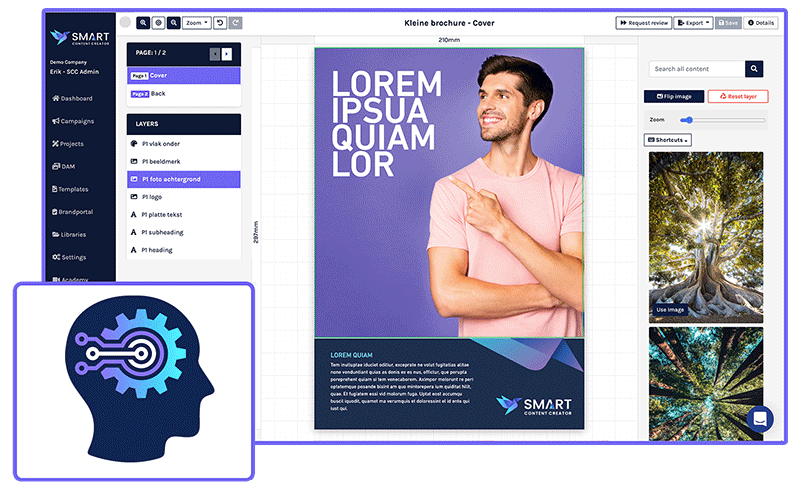 User-friendly editor
Creating quality content and communication materials without technical knowledge or training..
Simply create new content and advertising materials without the intervention of designers, dtp presses and studios
Pick your template and customize image, text and colours
All output is ready immediately (jpg, png, pdf, certified pdf)
No software installation required, SCC works in the cloud
More info
Smart templates
Import your Adobe Indesign documents. These will automatically be converted into easy-toedit templates.
Determine easily and at any time for each template what is editable and what is not
Templates are not bound to formats. You can use Smart Content Creator to create whatever you want, from social media post to billboard
You don't have your own Adobe Indesign files? Then choose one of our template packages and create your own new content and advertising materials in your own house style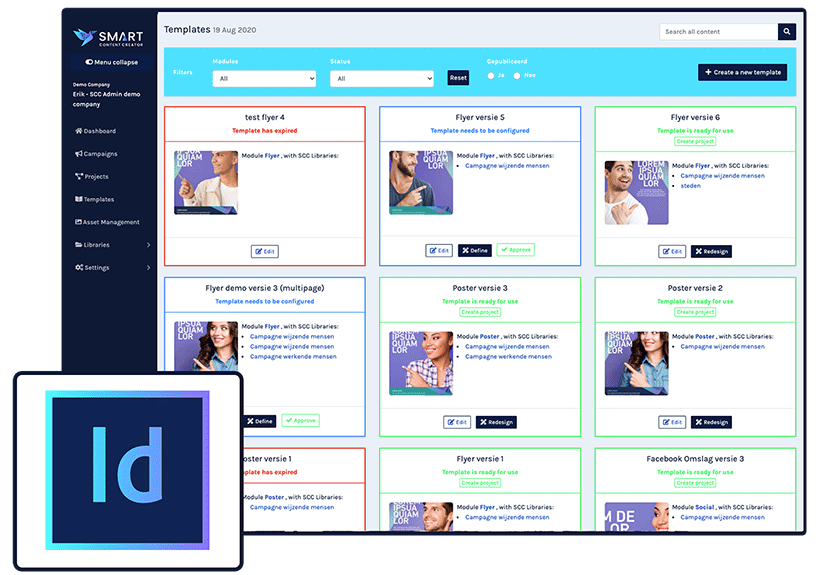 More info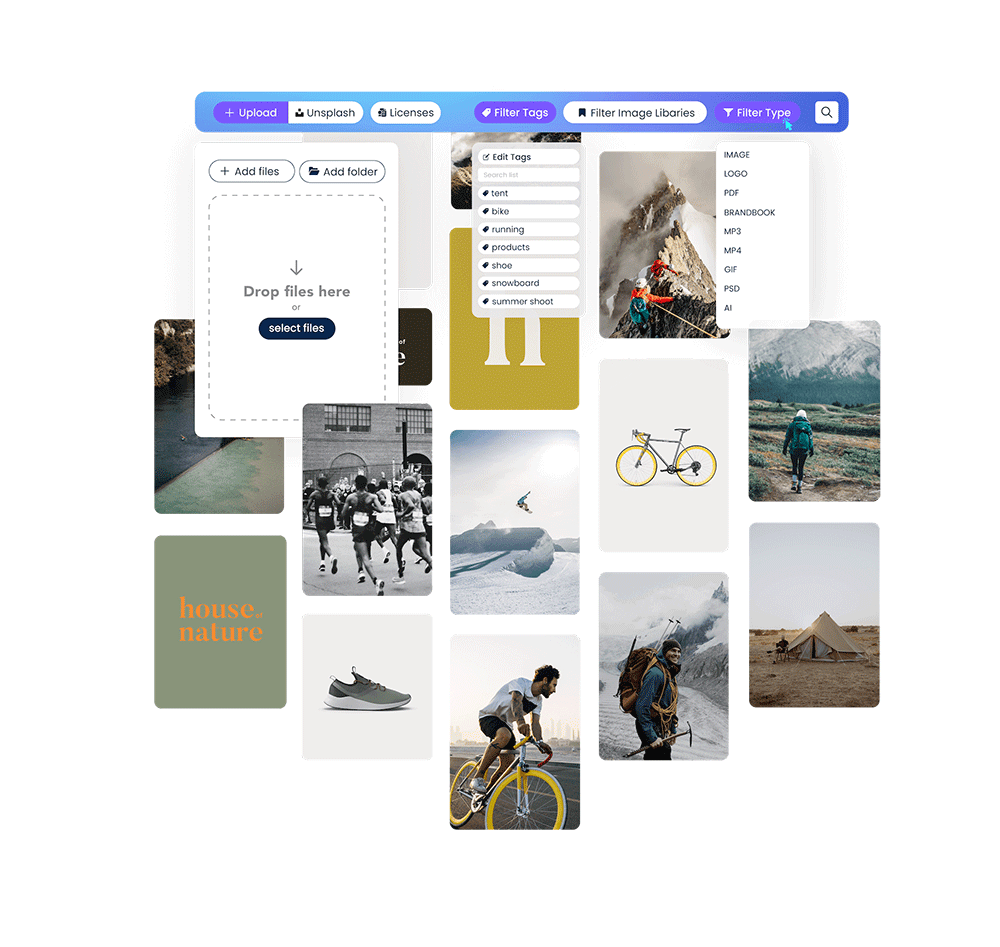 DAM system
Store, organise and share images in a central, fast and secure way.
Upload your image bank, tag images and create collections
Organise your images quickly and easily so that there is and remains structure and overview
Add image rights and manage copyright agreements
Clear and fast filtering, do not lose any more images and always find what you are looking for
More info
House style monitoring and reviewing
Content always complies with corporate identity and quality standards. Have your creation assessed and approved by your colleagues.
All output meets your house style standard and high quality requirements
Review the work of colleagues and ask for approval to ensure quality
Files are ready for use and can be used directly or delivered to the printer
More info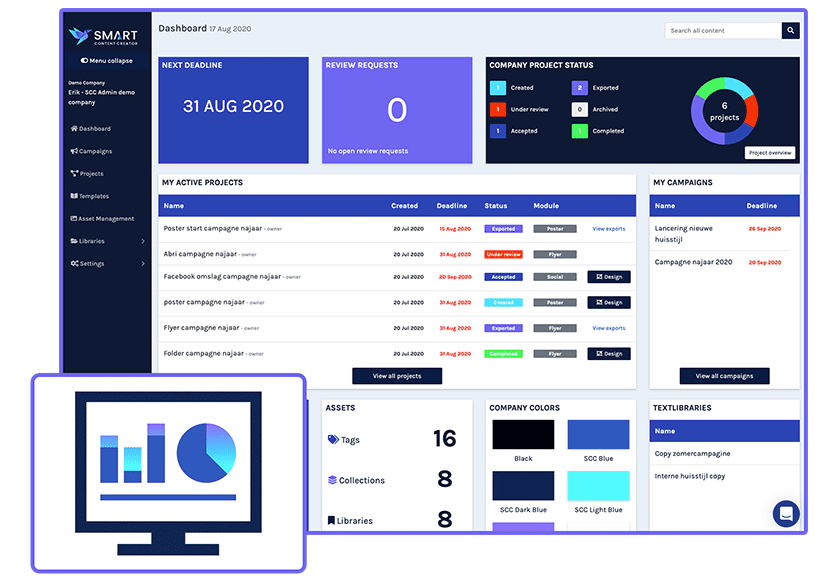 Dashboard
The overview cockpit with which you can follow at a glance what the status of a project is and where you need to take action.
You can see at a glance what needs to be done
Work together with colleagues on campaigns and follow every step as a team
Never miss another deadline
Quick access to all components within Smart Content Creator
Also mobile access for quick overview
More info
Companion mobile app
Always access to the most important information from Smart Content Creator even on the go
A mobile app for smartphones and tablets
Special own dashboard with the most relevant information
Access to all exports and downloads on the go and on your mobile, so you can always share your content easily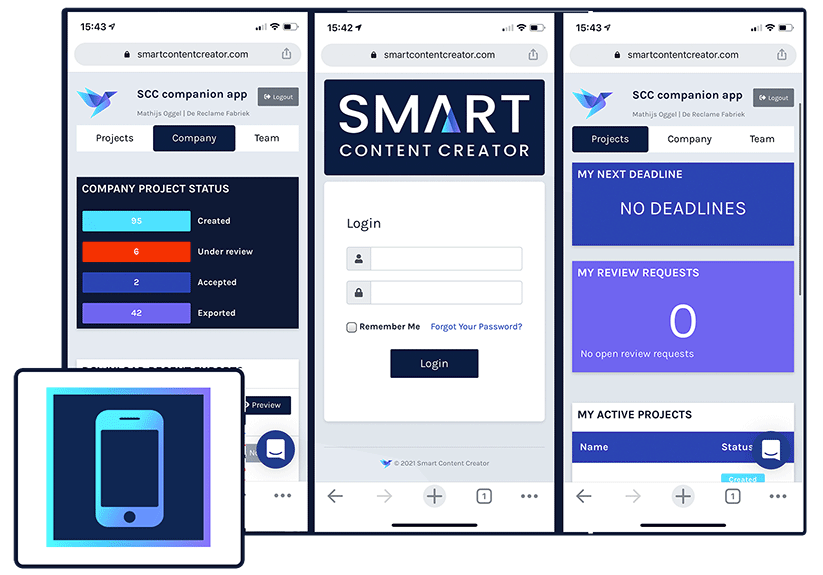 More info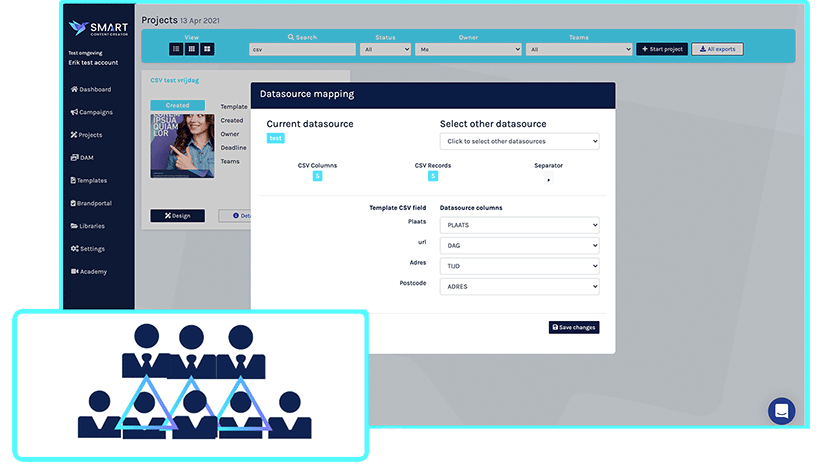 Smart fields
Hundreds of exports created at the press of a button
Import and organise CSV files as data source
Make a mapping between the CSV columns and template DataMerge fields
An export will be created for each row in the datasource
Ideal for creating shelf cards, multilingual displays or opening hours posters
More info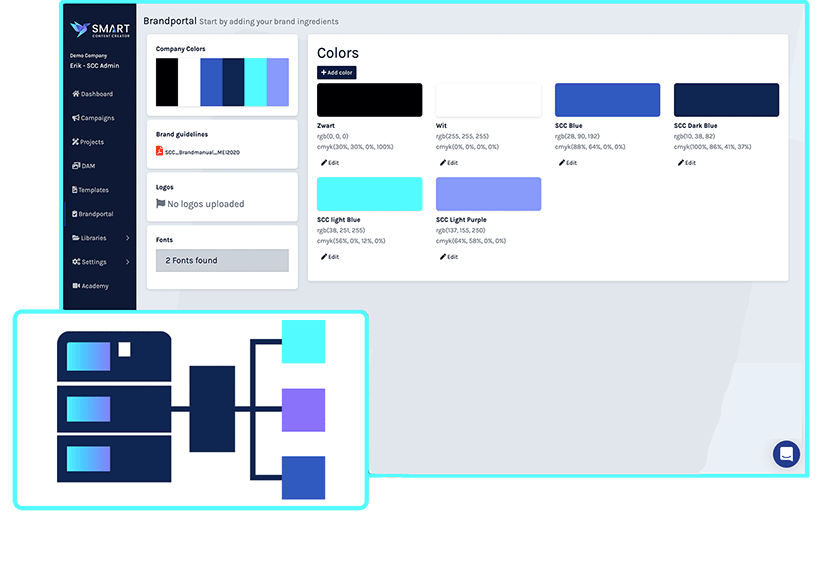 Uniform Brandportal
The uniform central hub for your brand. Easily create an overview and keep it up to date.
Easily upload all variants of your logo
Add all corporate colours and make sure they are used correctly
Automatically display all fonts from templates that have been uploaded in Smart Content Creator
More info
SCC Academy
The hub to learn how to best work with Smart Content Creator
Convenient and short videos per section
Learn quickly and efficiently by tracking your progress
In addition to videos, textual documentation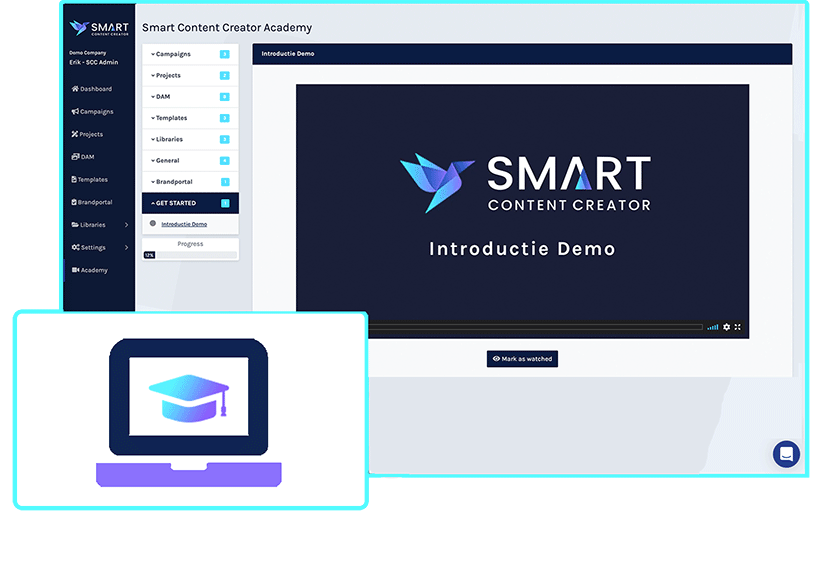 More info

10 minutes at work with new templates

Most user-friendly online layout tool

Decide what is editable and what is not

Templates always comply with corporate identity and quality standards

Datasource merge export, hundreds of expressions ready in a few minutes

High-quality output for social, web, print

24/7 use & significantly faster TimeToMarket

Cheaper and faster
Discover the possibilities of
Smart Content Creator